We will be downsizing again in the Spring of 2012.
Offering for sale in the Spring:
Hayden Farm DC Daisy
DOB 03/31/2010
Sire: Seraiah Farms' XC Christopher
Dam: Montgomery-Park DSB Design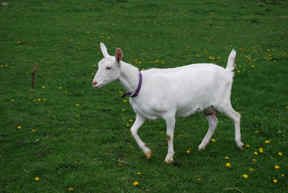 She will be available after she kids-out in the Spring.
Daisy has a sweet temperament and is currently being hand-milked.
She goes with a free complimentary Fall 2012 breeding to my Saanen buck:
Mistweaver Foggy Foggy Dew if desired.
We will also have 2012 doelings and bucklings available for sale in the Spring
of 2012.
All does this year are being bred to
Mistweaver Foggy Foggy Dew